Workhouse Fields
These fields had been rented for years by local farmers for grazing land, and were fertilized by hand spreading farmyard muck from the piles that can be seen positioned at regular intervals in the early photos. ( this was before the advent of muck spreaders drawn by tractors )
The photo on the right shows one of the worst example of village destruction and vandalization to date sine the building of the council estate on Blackshaw road.
On the workhouse fields a new "superior estate" ( known locally as " The Workhouse Field Over spill Estate") was allowed to be built by the local council, in their unhealthy haste to get the houses up before the conservation area was extended
Little supervision was given to the builders and as a result totally out of keeping town houses were built with high red coloured ridges
To add insult to injury the council even allowed the builders to call their estate Kilmony Fold after one of their wives maiden names instead of the historic choice of "Workhouse Fields".
The estate was also built over the original workhouse well, with no thought being given to preserve it as an historic feature
...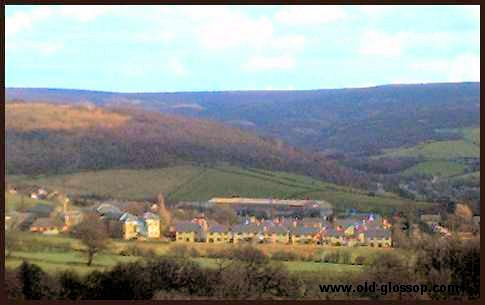 ..